GUTTER REPLACEMENT & CLEANING
Expert Exterior Cleaning & Contracting  Serving Northern New Jersey
New Jersey Licensed and Insured Contractor. NJ HIC# 13VH10860400
House Washing, Roof Cleaning, Rust and Stain Removal, Gutter Cleaning and Installation and More. Click here to see other services we offer.
This service is often overlooked and can cause serious damage to your home if not done routinely. Gutters are an important thing to have installed and in working order. Discounted pricing provided for yearly maintenance agreements. (Quarterly Cleanings)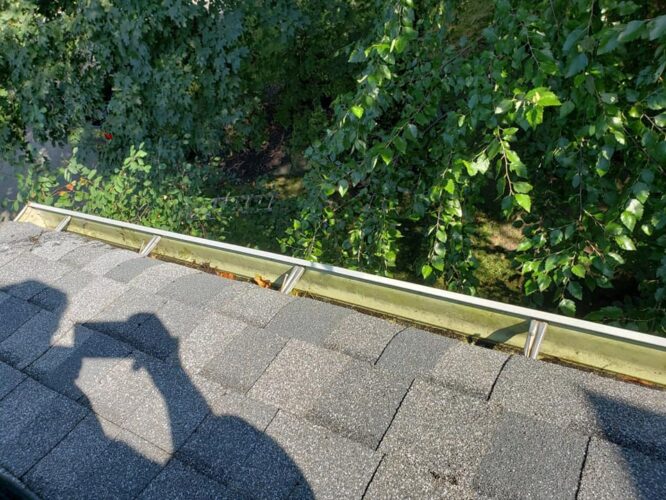 Gutters Protect Your Home
Gutters take rainwater from your roof and direct it away from your home's foundation. Leaking or overflowing gutters can cause water to pool around your foundation. Pooling water is susceptible to freezing in the winter, which could cause cracks in your foundation walls. Cracks will ultimately cause seepage through your basement walls which in turn could cause mold, and water damage to your valuables.
Keep pests out! Clogged gutters, and pooling water is an invitation for pests and other insects to make a home in your gutter system. 
Overflowing gutters can cause damage and rot to your homes facia, which is needed to keep your gutter system secured and anchored properly into the home. Once rot is present in your fascia board, it will need to be replaced.
Ice Dams: Clogged gutters will cause ice damming, which puts unwanted stress on your gutters and roof.
Garden Beds: Gutters direct water away from your garden beds. Think about how large your roofline is and the amount of water that it collects. All of this water needs to go somewhere and if it overflows the gutter and into your garden beds, it could cause overwatering, growth of mold and fungi, as well as possibly drowning your flowers and shrubs.
Prevent Roof Damage: The cost of a gutter cleaning regimen is much less than the average cost to repair, or replace your roof. A little bit of maintenance could save you thousands in the long run.
THREE RIVERS CONTRACTING
Contact us now to discuss your project or click the link below for a free quote