Expert Exterior Cleaning & Contracting  Serving Northern New Jersey
New Jersey Licensed and Insured Contractor. NJ HIC# 13VH10860400
House Washing, Roof Cleaning, Rust and Stain Removal, Gutter Cleaning and Installation and More. Click here to see other services we offer.
The curbside view of your home is a neighbor or visitors first impression. TRC is here to help keep your home looking clean. Our low pressure exterior house washing service will leave your home looking new again.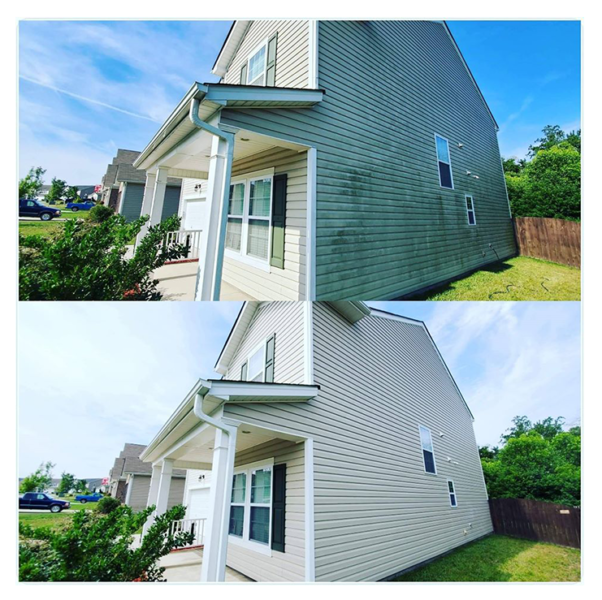 Our Low Pressure Exterior House wash or soft wash service will leave your home looking new again. Soft washing is a cleaning method using low pressure water and specialized algaecides and detergents to safely remove mildew, bacteria, algae, moss, and other organic stains from your home or building's exterior surfaces. 
When you look at your home, do you see black streaks, mold, or other unsightly stains? The organic stains are typically difficult to avoid due to environmental conditions and moisture, especially in our areas in the northeast.
Our methods of cleaning are safe and effective. We do not use high pressure when washing your home's exterior, therefore any worries of damage to siding or home fascia are virtually eliminated. Our soft washing methods allow us to dial in the correct amount of detergent and solution strength to clean all types of materials and substrates. Each stain is different and is treated accordingly.
Let us transform the look of your home and add years of life to the exterior. Our soft wash solutions are safe for any type of siding. We can wash and treat vinyl, wood, brick, stucco, aluminum, steel, concrete, and just about any other material.
Areas that are included in a typical exterior wash are: All siding, gutters, soffit, trim foundation, shutters, and window trim. Soft washing will clean, disinfect and remove all organic stains from these surfaces, as well as prolong the life of the materials and maintain manufacturer warranties.
THREE RIVERS CONTRACTING
Contact us now to discuss your project or click the link below for a free quote